Thigh tattoos
Thigh is the flattest part of the leg and only for this it is considered one of the most popular places for tattoos. Often tattoo on the thigh can be found only at the women. Men rarely have to bare this place, and to admire its hips in a strange way.
Woman thigh tattoo options
Female thigh is not just a part of the body, but a real symbol, in which women sexuality is concentrated the most. That`s why women often tend to point and beatify this part of body combining tattoo with short dress in summer.
If you choose the "top" thigh it is better to prefer the pictures of small size. As it was already mentioned, this area - the prerogative of the women. For this reason, tattoo design on the thigh - very feminine, delicate and sexy. Girls tend to choose the flowers, birds, stars and butterflies. Women choose these images for several reasons. Firstly, they are beautiful and compact. Second, the significance of these tattoos as well as possible reflects the female nature. For example, butterflies represent - softness, rebirth, beauty and femininity. Cherries or cherry tattoos are brilliant expression of hope, innocence, femininity and strength. White pigeon is a universal widespread symbol of love, peace and purity.
"Lower thigh" is already giving greater freedom of choice. Picture can be either small or large. Unlike tattoo on the top of the thighs, these images can be shown, for example, wearing a skirt or pants. Boys and girls often choose skulls, daggers, portraits, inscriptions and animals. Perhaps you can see the craziest tattoo categories on this part of the body. Due to the fact that at any time tattoo can be easily hidden under more official type of cloth. But at the right moment it can hit others with their originality and courage.
One of the most popular tattoos on women thigh is a fairy dragonfly. The image of a flying animal on the human body is one of the oldest evidence of the influence of Eastern culture to Europe. Some prefer to make massive tattoo from chest to thigh, some – only on thigh but as big as possible.
This type of tattoo is very popular these days. You can see the variety of different styles and categories of tattoo. Another popular tattoo placed on thigh area may include colorful flowers, hearts and bows. Often women make this kind of tattoo only for their beloved half's. Also it should be mentioned the thigh tattoo it is the most successfully chosen place for the implementation of 3D realistic pictures.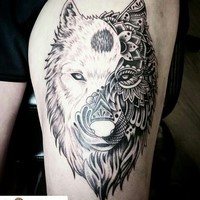 Man thigh tattoo options
As for men the most popular types of thigh tattoos are animals or different type of mechanic stuff. One of the greatest is mystical blue eyed wolf with big grey moon. Some sportsmen make different sports symbols or emblems of teams in which they are playing.
Due to the fact that the thigh is not very sensitive part of the body people can do the most breathtaking and natural looking tattoos, but the other side of the coin is price. Often this type of tattoo takes more time than others but the result if often more impressive.
The large amount of different examples of thigh tattoos can help you to decide of which tattoo you should do.
Follow Us on Facebook