Chameleon tattoos
Chameleon tattoos became more and more popular in the tattoo art, and even more, it has recently become to symbol of tattoo. This is the symbol of adaptation, vivid colors, great inner spirit and originality, extraordinarity and so on. Chameleon in tattoo is usually pictured in vivid colors - it symbolizes creativity, extravagance, flexibility and fluidity, richness and fullness of the inner world.
The places where the chameleons live are very limited and therefore not too many ancient people new about such creatures, and therefore the meanings of them as a symbol are not too vast and not too many. It is known, however, that chameleon was considered to be an air element and it was also believed that the chameleons are feeding themselves with the wind. Some African tribes considered Chameleon to be great and even sacred creature that brings the rain to their lands. In Christianity chameleon was considered to be the friend of Satan because the Satan is able to change his appearence while trying to seduce and fool people.
Tattoo pick up advice
However, you should think three times before you choose chameleon tattoo as your main tattoo designs. There are several reasons for it. The main reason is that people who are connected with chameleon are considered to be the people without any principles, who can easily change his or her attitude depending on what surronds them. The second reason to think thoroughly about it is to understand that the chameleon means the person who feels at home everywhere but also has nothing personal - the person who follows any rule, but keeping himself. That's why such tattoos will be great for people who are powerful, great, know what to do and whole. For others chameleon tattoos can be negative and have rather negative meanings.
As we have stated earlier, chameleon is a so called symbol of tattoo. It becomes more and more popular over the years and is strongly coming to the tattoo trends. In general chameleon tattoos mean adaptivity, as well as originality and so on. Such tattoos are usually made by people who are able to get used to what surrounds them quickly.
This unusual creature has become fashionable and a symbol of modern man. The ancients liked to clothe themselves into skins and tusks of those animals, feathers and scales of a snake. But most importantly - they liked to create tattoos. So today chameleon became a symbol of tattoo art.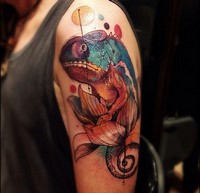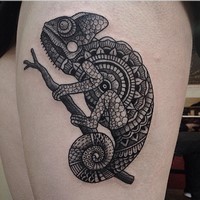 Chameleon symbolism
Chameleon is considered to be the aboriginal symbol of originality, extravagance, metamorphosis and compliance, beauty and grandeur. Little is known about the origin of the image of this creature, because very few people have seen it. Some people associated it with the forces of the wind and the water of heaven. In Christianity this creature meant only evill.
What does the tattoo of chameleon mean? Many people believe that the image of the chameleon means unprincipled person, inconstancy and lack of his own face. In fact, under severe conditions of competition of these qualities may play vital role, in particular its ability to be everywhere. Fans of this animal consider them to be cute and shy creatures. It is because under the light, when people see them, they appear to be very tiny and small, somewhat cute.
Do not forget about the fantastic ability of the lizard eyes to rotate independently from each other. It sees everything at great distance. Chameleons usually know how to wait. They are very clever. No wonder some people thought chameleon to be an assistant of the gods. You can picture it in bright colors or as a cartoon, and also you can order a tattoo artist to make chameleon tattoo design the way you want it.
Follow Us on Facebook