Zebra tattoos
Zebra symbol becomes more and more popular in the tattoo culture. Even rather simple painting in the form of the zebra lines becomes more and more trendy. Zebra tattoos symbolize calamity and ability to hold yourself in any circumstances, to maintain your good will and independence. Zebra tattoos usually are made by people who accept life as is, where the lines of good and bad, luck and bad luck, joy and sorrow, change each other. Usually people making zebra tattoos understand that everything comes and goes, and there is nothing permanent.
Who should choose zebra tattoo
The person, who chooses the zebra symbol for tattoo should be the vivid and extraordinary one, because zebra is looking rather vivid, despite having only two colors. This ability to create something unique from the quite regualr things is one of the traits that the zebra tattoo speaks about. The male zebra symbol speaks about the loyalty to the family, aggression to other males on the territory. The female zebra symbol also shows the devotedness to family and children.
Zebra tattoo will be suitable for calm, well composed, chatty person who is rather open to communication with other people, but still remains highly independent, with his own point of view. Such person is usually rather artistic and extraordinary, who can solve almost any problem arising, without accomodation to them. If such person cannot change something, he just waits for his time. At the same time those who chose zebra as their mascot, should be able to protect his family and relatives but don't speak about revenge. Zebra tattoo is also used as the totem, allowing to maintain the inner calamity, the balance of the spiritual forces, development of the artistic abilities, independence and so on, as well as making the relations with people who are close more thick and showing reliability of family relations.
Zebra tattoos become more and more popular nowadays. You can see it more often now, as well as the imitation of its colors. The meaning of zebra tattoo is connected to calamity, wit and independence.
The animal itself, as well as usually its image, is looking very vivid and extraordinary. Therefore zebra will be suitable for such people - vivid, extraordinary, that don't follow any standards and love to make unusual things usual. Such tattoo will be more suitable for example for designers, inventors and other very creative people.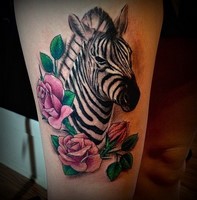 Zebra tattoo influence
Zebra symbol will always help calm and self-assured people, who like to communicate, are creative and open-minded, for those who are independent in their views and have wide communication circle, being able to make circumstances play for themselves.
Zebra tattoos usually help their applicants to wait in the times of hardships if one cannot change anything at all. It will also teach to protect, not going to the revenge. It will also help to maintain inner balance, to develop the artistic state of mind, to make the relationship with family stronger. For men zebra will become the symbol of devotedness to their own family and as we have already stated, the aggression to other males on their territory.
The women who choose zebra tattoos as their tattoo designs, also show the devotedness to the choice of the partner as well as devotedness to her family and to children.
Zebra tattoos has become more and more popular recently. They have gained popularity also because of the physical attractiveness - the black and white stripes look rather stylish and help to make your skin more attractive. As you will see in many tattoo shops, there are plenty variations of zebra tattoos and most of them will be attractive for you.
Follow Us on Facebook