Rooster tattoos
Are rooster tattoos really popular? What do you think of them? Well, they may look really beautiful and attractive. Just imagine this picturesque and beautiful interesting fowl somewhere in the barnyard. It is considered a great creature.
First of all, when you begin to choose your tattoo design, it is highly unlikely that rooster will be on the first place - it is not really something that comes to mind immediately.
All rooster tattoo designs are looking really beautiful if you take a closer look to it. Just imagine all those shine feathers that these birds carry with such power and authority.
But of course you shouldn't be guided only by the fact that such tattoos are known to be attractive. You also should have a deep understanding of its meaning and so on.
Rooster means in different cultures
First of all, it means courage, wisdom and also such qualities as benevolence, generosity and punctuality.
In China and other eastern cultures those who have been born under the sign of the rooster, usually possess such qualities as natural beauty and sex appeal. Usually such people live very easily and get along with everybody easily as well. They are known to be very confident and capable of doing almost all the things you could imagine them to do.
In Buddhists' philosophy it is believed that the roosters morning call uses to awaken their Buddhist goddess by the name of Amaterasu. That is why among Buddhist people such birds are considered to be sacred. Usually they can walk freely in temples.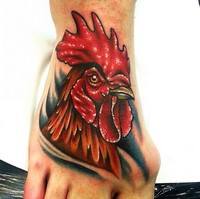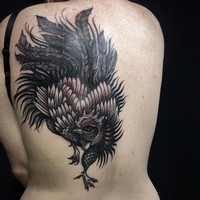 Vast variations of rooster tattoo deisgns
Rooster tattoos can be different and interesting. As it is widely known the main danger among any sailors is drowning because too many sailors - and it is a very surprising fact - were known not to be able to swim at all. Usually roosters were tattooed by them on the right leg - on calf or on the knee. Usually such birds as roosters were kept in wooden crates on board of ships. Those crates were usually floating while the ship was sinking and this was giving roosters better chance to survive than the sailors.
Fighting roosters are known to also be the popular tattoo design. In Mexico, for example, this is known to be the symbol of machismo.
Of course, as we have stated earlier, you won't be able to see rooster tattoo designs too often and there are not too many people that want to use it in everyday life. One should be brave enough nowadays to use such tattoo designs on one's skin.
Different rooster tattoo designs can be really interesting. You have to visit your local tattoo shop to make sure that you can get the needed tattoo design up to your liking. It can be really great because nowadays one can choose many different tattoo designs as local tattoo artists may create you an individual tattoo design. It may, however, be rather expensive thing.
As for the location for the rooster tattoo - it isn't necessary to follow our advices, if you believe that it will look much better on your own skin. That's why you may apply rooster tattoo designs in any place on skin that you like.
Who should have rooster tattoo?
Rooster tattoos are usually applied by both men and women, regardless their exact sex. The person, who applies such kind of tattoos, is known to be very gay, looking positively and giving example to many other people. However, we are living in society. In Russia, however, rooster tattoo is not very welcome because it refers us to prison life. Life in prison is hard enough and there the passive homosexualists are called roosters and rooster tattoos are therefore meaning not too good things.
Therefore you should really think a lot before you choose to create rooster tattoo design and apply it onto your skin.
Follow Us on Facebook