Ram tattoos
The tattoo with the image of a ram is considered mostly male because the ram is understood first of all asthe man's power, and is known as a symbol of persistence, brutal force, and so on. Such tattoo also means a different thing - zodiac sign the aries. This drawing is applied mostly often by men, and are widely used on such areas of the body as a back, shoulders, a breast.
Tattoo meaning and variations
The meaning of a ram tattoo can be really different,usually it may mean such things as commitment to what a person does, desire to go towards the aim regardless of obstacles, to achieve together force and power. Also the ram is a symbol of the beginning of spring, revival, and renewal. And still the ram personifies the creative beginning, sacred fire and can act as a charm of some kind - it was used in different areas for charming. In other cases the ram represents a symbol of powers of darkness.
Such tattoo will suit the strong, self-assured, powerful and rested man who may be will known because of his commitment and will power, obstinacy and straightforwardness. The person who has those traits of character, does the tattoo with the image of a ram to show that he will preserve and protect, and to show that he possesses great strength and energy.
Usually the tattoo of the skull of the ram means negative things. A skull is known to be a symbol of God of death, the underground world. Quite often people who are interested in otherworldly forces apply such tattoos onto their skins.
Many people, even before reading this article, of course already started thinking, what associations are caused by a tattoo with a ram. For certain someone can really not distinguish rams from sheep. Probably some people have never seen both of them in their lives. If to consider a question of the meaning of such tattoo from a Christianity position, these both animals symbolize obstinacy and aspiration to achievement of the purpose in any ways. Expression "stubborn as a ram" took roots in Russian language for example long ago.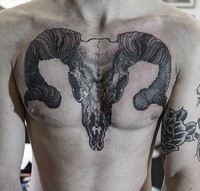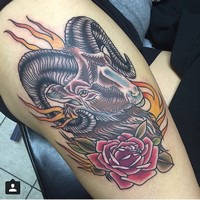 Ram symbolism
The ram symbolizes, nevertheless, a machismo therefore the tattoo with this animal isn't really pertinent on a body of the very young girl. The owner of such picture will frighten off representatives of an opposite sex, rather than to attract.
As it was already told, rams it is accepted to call stubborn, uncompromising people who can't and don't want to reach compromise, trying to make everything in own way even if they know about an inaccuracy of the behavior. So they are not really suitable for those who want to get the romantic relations with the person, whose behavior doesn't differ in special flexibility.
At the same time, when one looks at the sketches of a tattoo of a ram, it becomes clear that this drawing will suit the purposeful, confident man in the forces. After all it is not without reason that the ancient Celts associated the animal with fertility. Also the ram is known to be the symbol of a positive outcome of military operations.
Tatoo of a skull of a ram is usually represented in demonic style, and on the contrary, is positioned as devilish, powers of darkness.
As we see, meaning of a tattoo comprising a ram can't unambiguously be treated therefore before deciding on using such tattoo design, we advise to think carefully with why exactly it attracts you, and what traits of these animals will suit you the most.
Ram tattoos, because of everything abovementioned, cannot be seen as too wide spread tattoo designs. Therefore it is highly likely that you with the help of the skillful tattoo artist will be able to make your tattoo design unique and very interesting, not looking the same as among the others.
Follow Us on Facebook