Pegasus tattoos
Pegasus tattoos can be seen not too often, however the image of pegasus itself is interesting and useful enough.
Very few tattoos will be compared on the beauty and sense to Pegasus. After all besides the originality, this symbol is impregnated with the most ancient mythology and shrouded in legends and secrets. Therefore at the first look on such mysteriousness provides to a tattoo good interest in this symbol from people around.
Pegasus mythology and history
The image of Pegasus came to the modern art of a tattoo directly from ancient Greek mythology, there Pegasus — is a white, winged horse who acts as the esteemed, well-known deity. Pegasus was the son of god of the seas and oceans Poseidon and the Jellyfish of a gorgona. Following one of myths, this he was born from a trunk of Gorgon which was killed by Perseus, at rescue by the loved Androniki. Then Pegasus rose on Olympe's mountain and served Zeus, delivering for it thunders and lightnings. But Pegasus received the celebrity only after a perfect feat. The matter is that this strong deity managed to beat out, pull out of the ground a source and the patroness of all muses Gippokrena who serves as inspiration for all poets and creators. Therefore Pegasus can often be called "a horse of muses".
But it isn't necessary to forget that it not an ordinary horse, and he has no similarity to value of a tattoo of a horse. And according to the myth it can't be caught in the usual way, only the valuable, gold bridle is for this purpose necessary.
Undoubtedly Pegasus — this pure, sacred animal deity, he symbolizes force and speed, endurance and firmness, and also embodies wisdom and spiritual development. Therefore in heraldry of medieval Europe egos often represented on the coats of arms of scientists and thinkers.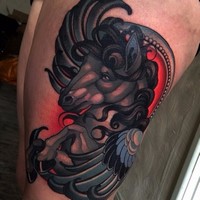 At the time of World War II Pegasus was used as a symbol and an emblem of the British military airborne troops. And till today this winged horse is used as an emblem of air transport and speed.
But it is best of all other to today the most ancient properties and Pegasus's values remained. Therefore often it serves as an inspiration sign for poets, musicians and artists. And with an ulterior motive in fiction the resisted expression "to Saddle Pegasus" means to be or become the poet. And one of ancient church writers of the myths of VI century in Fulgentsy called Pegasus by a sign of heavenly glory because both glory and Winged Pegasus and are extolled to heavens.
By the way, the image of Pegasus as source of inspiration it is necessary to perceive as in symbolical, and literally, after all in Greece still beats from the earth a sacred mythological source of Ippokren which appeared from a kick of Pegasus. The self-name "Ippokren" is translated from Greek language as "a horse and a hoof". I think, it is clear that meaning of a tattoo Pegasus is filled with the real sense and is worthy respect. And to the person wishing to give an example of incredibly beautiful, unusual and having sense tattoo it will go just right.
Pegasus tattoos attract usually much attention and are loved by everyone.
Follow Us on Facebook