Jellyfish tattoos
Jellyfish tattoos cannot be named among the most popular tattoo designs out there. Their peculiar traits and intriguing appearance, as well as the deadly danger that is covered under the thin cover, may be confusing a lot. That's why you cannot expect many people to choose jellyfish as their tattoo design, at least as the main tattoo design. However, jellyfish tattoos are known to look very good and can be well taken both in black-and-white and in colorful variant.
Jellyfish tattoos can be often met among people who use to live their lives not too far from the seas or oceans. This image is not suitable for only men or only women and can be easily and greatly applied by both of them.
Jellyfish tattoos meanings
In the general meaning jellyfish tattoo may be considered as the grace and calamity. Jellyfishes are the creatures who need to move constantly to support their existence. They move in harmony with the life flows and show how it is possible to interact with the nature energy of all the living creatures.
When looking at the jellyfish depiction one may easily think about the fact that it is necessary to spend more time to solve the arising problems than to just go along the waves. That's why it is necessary to say that the jellyfish tattoos have dual meaning.
Jellyfish tattoos may be often seen among the people who love sea as well as life going on in it and connected with it. Peculiar looks of jellyfishes allows everyone to choose the jellyfish tattoo image according to his or her liking and still look very unique. For example, you may choose the jellyfish with thin paws that are similar to drawn lines and small round body, or the jellyfish with thick vivid paws and big vivid realistic body.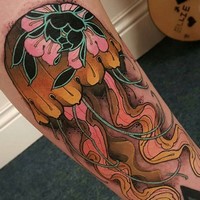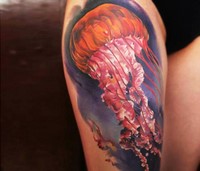 Variants of jellyfish tattoos
To tell the truth, the realistic jellyfish tattoo designs can be drawn into many different colors and subcolors, from pinky to orange. You can also outline the jellyfish with blue color, that will symbolize water. The jellyfish tattoo that is glowing in the ultraviolet, will look really great. Extraordinary people and individualists often make the jellyfish tattoos that have complex, even fantasticsl beginning.
There are also the variants of the jellyfish tattoos that resemble aliens to some extent. Because of the fact that the jellyfishes have something alien in them, it is not to hard to make the alien creature from it.
If you choose to create some big jellyfish tattoo, it may be depicted, for example, in the space. Let us imagine that the jellyfish holds the whole planet in its pawns. Given the fact that the jellyfish tattoo can be met rather rarely, it may be considered rather unique. This is another reason why it can be chosen by some extraordinary people.
You should remember the following - it doesn't matter what exact jellyfish tattoo you choose - it should be really unique.
Jellyfish is looking airy, tender and really attrative, however it is dangerous - this contradiction ends up in every jellyfish tattoo design. However, because of such contradiction not every person is brave enough to put jellyfish on his or her skin.
Places to make tattoo
If we speak about the best places to apply the jellyfish tattoo, it is necessary to say that they may be really plenty. Mostly people try to apply them to arms or legs because of the form of this creature itself. It is also rather actually looking on the back, however there have been some occurances when jellyfish tattoo designs are applied even on the chests of the people. Jellyfish will look great on every part of the body and it is only up to you to decide which part to choose. The only thing to consider is for jellyfish tattoo to be unique, but here any tattoo artist will be able to offer you a lot on the matter.
Follow Us on Facebook