Half Sleeve tattoo
If you are asking yourself why not to get half sleeve tattoo you should definitely read this article and carefully look through the examples of tattoos in this category. Half sleeve tattoo is massive and it occupies large areas of arm, from shoulder to elbow.
Half sleeve tattoo advices
Half sleeve tattoos are widely spread among men but there are no exceptions for women as well. The beautiful half of humanity contributes to the drawings floral motifs and foliage. Men may use elements of straight hard lines, Scandinavian, Celtic and Japanese patterns. There are also examples of the animal presence and abstract pieces.
Tattoos on half sleeve area are perfect for men with enormous biceps and triceps, guys with well-build arms. Half sleeve tattoos attract attention to arms making everybody admire your success in biceps building process. Most tattoos are imprinted with several colors that make them appear nicely. Sometimes colors are meant to look just like the cloth worn making it difficult to notice. You sometimes need to take a closer look to realize it is not a cloth but a tattoo.
One of the other advantages of half sleeve tattoo that they are pretty big and can be seen from a distance and catch everyone's attention effortless. Think carefully before getting a half sleeve tattoo because you need to consider everything since these tattoos stay for live.
Lots of reasons make half sleeve tattoos for guys trendy nowadays. Many people have searched for information on the internet concerning these tattoos for different reasons. Half sleeve tattoos can easily be covered up and uncovered by cloth depending on the occasion; it is only owner's prerogative to decide whether to show it. It is really convenient that you don't even have to worry about your tattoo being too exposed or not been seen at all. What you only need to do is to fold or unfold your shirt making the tattoo visible whenever if it is necessary.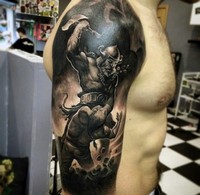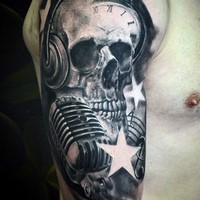 Tattoo styles
Asian motifs are very popular in half sleeve tattoos since most symbolic links are only close to heart, experience, culture and traditions of the eastern countries and nationalities. Carp fish can be called original and technically complicated half sleeve tattoo. It symbolizes courage and tells about the strength, courage, energy, and the search for way of life of its owner. The myth says that in the end, after the fish reached the top it swam up to Heaven's Gate and turned into a dragon, flying in the unseen distance. Usually this kind of tattoo is bright and colorful with deep blue water and shades of gold and orange added to the composition.
Tribal style tattoo is also very popular to be done in half sleeve area. Polynesian motifs in dark black ink and various geometric shapes are often used to create incredible original design.
Also design of half sleeve tattoos may show strong armor covering the shoulder, sleeves and chest. Armor is decorated with beautiful tribal designs which are a very popular type of art when it comes to designing tattoos theme. Certainly they look tremendously attractive and have deep meaning.
Super realistic impressive detailed tattoo design with biomechanical elements undoubtedly extremely catches attention. Such type of design is inspired by biomechanics and shows mechanical parts in the human skin through the flesh. It is so called symbolic representation of what people are made of on the inside.
Unfortunately half sleeve tattoos maybe expensive, since the application process requires a tremendous amount of resources and the master's time, but the result is worth it for sure.
Follow Us on Facebook