Grim Reaper tattoo
This character appears in ancient art and literature as well as in modern movies, paintings and tattoo. He wears black cloak and carries sharp scythe to make his work – take human souls out of bodies. It's believed that he appears before the moment of death and leads souls to the Heaven or Hell. The Grim Reaper tattoo is usually scary and awesome in one time, tattoo you can't get out of sight.
Grim Reaper story
The well known story about four rides of Apocalypse, told in the Book of Revelations of Holy Bible, is the one which told us about Grim Reaper. He appears as the "forth rider", who represent death. So there is no surprise some authors ink him riding a black or pale horse. Usually he is shown in scary negative ways, but some cultures don't share this opinion and treat him neutral. Romans, for example, believed that collector of souls, was a good sign denounce luck.
History of Grim Reaper tattoos and its meanings
Tattoos of Grim Reaper firstly appeared a long time ago, so, for now, the ways to depict this character are very broad. The most common thing in all Grim Reaper tattoos is his dark robe and sharp scythe.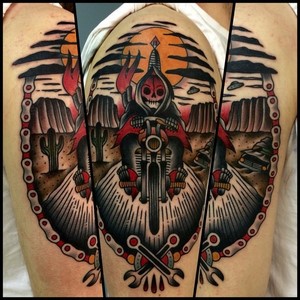 The way he holds scythe can differ – he can show it to viewer as well as hide it over his back. Very often the Grim Reaper has skeleton hands to hold the scythe. In the most art pieces his face looks like grinning skeleton, but sometimes people depict him with no face - shadow covered with robe hood. The robe is actually the most not interesting thing in this kind of tattoo, so, usually the lower part of his robe is not inked at all. As for colors, traditional are black and brown as Reaper represents death. But in modern tattoo practice we can find colored Grim Reaper tattoos. This decision, probably, needed to make the tattoo less scary.

The Grim Reaper tattoo has its own meanings which can differ much. As well as symbol of darkness, death, evil and fear it can represent good luck, courage and life. About life, it shows not the simple life, but the endless circle of life – birth and death cycles. May be because of this very often you can find the Grim Reaper tattoo inked by soldiers. In this way they show their courage and no fear of death. As well it can show shortness of life and encourage live full life before facing the death. In this cases the Grim Reaper tattoo is followed by inscriptions, for example "Memento mori" – "Mind your death" or "Carpe diem" – "seize the day". Commonly we can find Grim Reaper inked by people who survived some accidents and somehow "cheated death". Dark qualities of reaper are usually used by representatives of Goth culture. In this case it can tell us about person's fascination with death and "dark world". Sometimes it used by people who just want to have scary and stunning tattoo to gain more attention. Usually the Grim Reaper tattoo is accompanied by all "dark and horror" stuff such as skeletons, skulls, tombstones, black ravens, bets, and many more.
Follow Us on Facebook