Gorilla tattoos
Tattoos depicting a gorilla can be divided into several groups - in fact into three of them: reality-style tattoo, stylized tattoo image and fantasy tattoos. They are united by the following meanings of the gorilla tattoos - the power, the potential aggressiveness and intelligence.
Gorillas are known to be extremely strong animals , who are also very intelligent, and in case of danger becoming very aggressive. The application of the hyperrealistic tattoo with the image of the primacy of man pays homage to the strength and intelligence of this animal. Very often the gorilla tattoos as well as other monkey tattoos can have a very deep and interesting meaning. They may be realistic or stylized, as we have said earlier.
How to pick up gorilla tattoo design
Stylized tattoos often depict gorillas, which have become known to the world thanks to the cinema - it's King Kong and characters from the movie "Planet of the Apes." There may also be many different things connected to gorilla tattoos and the tattoo designs can be really different - for example gorillas may be in arms, behind the drum kit, paragliding and so on.
Gorilla sketch tattoo can be both color and monochrome, and both of them are looking really great and are worthwhile considering. Monochrome image succinctly conveys the meaning. Color image gorilla doing enough scale, at the expense of what it looks a winner.
And remember, it doesn't matter what exact tattoo design you choose - the main thing for it is that it has to be unique first of all.
It is known as a very ancient tradition - to apply different animals as tattoo designs. It is a tribute to ancient totems that were used to worship our ancient ancestors. Although the primary value of such images is partially lost, the popularity of tattoos with representatives of the animal world is only growing.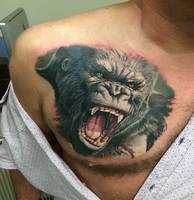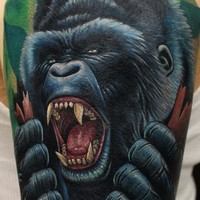 Gorilla tattoo meaning
Gorilla tattoos, as well as many other monkey tattoos have different and often quite opposite meanings. It is a well-known fact that different cultures treated monkeys differently and therefore considered them to have many different traits of charatcter. In Europe, any image of the primacy always had some negative meaning, without any real exceptions, symbolizing passion, sin, cunning, lazy, and other different things like that. Eastern tradition, by contrast, sees only positive qualities both in monkeys and gorillas themselves and in their images, as well as in tattoos and so on - they think those animals to have such positive traits of character, as intelligence, humor, courage, dedication and perseverance in the fight.
It is necessary to take into account all of these features and to understand that the representatives of the different traditions have many different associations for gorillas and therefore will treat your brand new gorilla tattoo quite differently.
Actually, the meaning of any gorilla tattoo largely depends on the style of tattoo itself and on what you need to tell other people with your tattoo. Usually such kind of tattoos are known to show the important posture and emotional state of the animal images. Naturalistic and stylized images also have their own impact on the appearance of the gorilla as well as on the looks of the gorilla tattoo. But all these images, regardless of tradition or styling, will have three meanings, characterizing gorilla the most ​​- those values are known as intelligence, strength and aggression.
Tattooed gorilla on any area of ​​the body. It is not difficult to guess the most profitable will look like tattooed in a vast area of ​​the back, chest or shoulder. Such images are selected, both men and women with a strong character, regardless of profession and type of activity.
Follow Us on Facebook