Giraffe tattoos
African giraffe was respected and revered animal, loved by many African people for its physical attractiveness, kindness and other positive traits, a symbol of good luck, wealth, happiness, vision and well-being. It was believed that the person who chose the giraffe as their totem with a distinct sense of dignity, kindness and sensitivity was independent enough, but also did not neglect the care for relatives and friends, making happy and great family.
Europeans consider this magnificent animal quite a bit strange, because surely for them it is not a typical representative of the animal kingdom. Interesting, that in Russian language the word giraffe possessed neither male, nor female gender, and that influenced the fact that may women chose giraffe as their personal mascot.
Meanings of giraffe
After all other meanings, it means that a particular woman feels beautiful, always wants to be visible and bright, positive and creative. She always takes care of loved ones and is usually becoming a reliable defender of the family heart, taking it very serious .
Usually the meaning of giraffe tattoos very broad and characterize people as an extraordinary persons, who are as well open, cheerful and optimistic. Of course, no one will object to the fact that the giraffe is known to be a bit clumsy animal, but however the giraffe at the same time is very elegant and graceful.
It is also important that the tattoo of a giraffe will always help in situations where the person needs to show such qualities as flexibility, sense of dignity and nobility. Most people decide on depicting a giraffe on their bodies to attract good luck, money,
Naturally, this image is most common in the area where they live freely.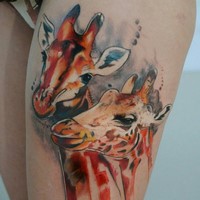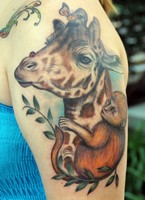 Why giraffe tattoo?
Usually the residents are particularly fond of portraying the animal. Some choose it because of the visual appeal, others are trying to create the most attractive image of some its own special meaning. What is the meaning of the common giraffe tattoos?
This animal is quite friendly, and it is also interesting to note that usually the persons who choose to apply such tattoos are considered to be quite eccentric and creative personality. With its long neck giraffe figuratively are considered a visionary and calm exterior shows great composure.
Spotted pattern adorning the giraffe looks very organical and attractive. First of all it symbolizes optimism, grace and elegance, because very often it becomes suits the best on a woman's shoulder.
The meaning of a giraffe tattoo also is highly influenced by the fact that for a long time, this creature is a totem of African tribes, because it is often used as a talisman or a mascot, and it is believed that it protects against adversity and failure.
What is the best place to apply the giraffe tattoo?
It possesses the long graceful neck, that can be displayed on the hands or feet and be quite suitable there. Giraffe tattoos may also be cartoonish and may not at all be so informative or of the deep meaning. For example, you can pin the giraffe with a "smiling" face and make a signature «Smile» - the phrases here are also very interesting and are known to suit the best. This is a very broad field for the imagination.
Tattoo giraffe will be quite suitable for an active, cheerful and optimistic people who appreciate every moment of life, and are grateful for all the pleasant things that are happening to them in life. This tattoo itself looks quite organic and fresh. Giraffe looks very attractive in tattoo art and therefore will be quite suitable for both males and females. There is a distinction, however. Males are more interested in regular giraffe tattoos, while femailes often choose cartoonish ones.
Follow Us on Facebook