Finger tattoos
Tradition of decorating the hands and fingers originates thousands of years ago. Today despite great variety of rings and jewelry though still not lost its relevance, but no longer satisfy the desire for self-expression. Therefore, in our time it is rapidly gaining popularity and is a relatively new trend in the art of the tattoo - a tattoo on the fingers.
Finger tattoo making advice
If you have the intention of making tattoo but you doubt about its placement finger tattoo may be exactly what you need. Certainly it is great chance to express your individuality, talent, creativeness, original ideas, passion and beliefs. Tiny tattoo on finger can be not only great example of your individuality but also an especial kind of body decoration. This kind of tattoos is as good for beginners as for those who already experienced in this kind of art. Undoubtedly that finger tattoos are rendered in the style of simplicity, minimalism and exclusiveness. Nowadays finger tattoos are equally popular with men and women. Small tattoos owners wear rings to signify the special memorial moment of their life and status of marriage, or as a decoration, fashion statement, stylish detail of their specific image. Small tattoo catches viewer's attention just as good as giant one. Even the smallest tattoo can give enormous information about its owner. Depending on its placement tattoo can be more or less visible. This kind of tattoos need special attitude and treatment due to the fact that you can't simply hide it behind close, it is always in sight. Carefully think through all the necessary details before you are ready to do it. Keep in mind its exact placement, size, color, design and all other special details. It is also important to remember that hands and especially fingers are always in center of attention. We continuously make something with the help of our hands that's why the tattoo may fade with time. The most preferable colors for this tattoo are dark black and blue nowadays, because they are subject to less abrasion than images of other colors.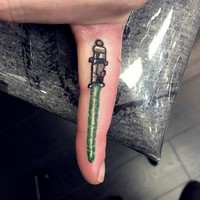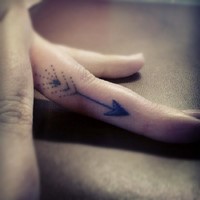 Examples of fingers tattoo
Various lettering is extremely popular to be worn on fingers. It may be initials, single words or even some wise or funny expressions. More and more people like to make nice Arabic or Latin lettering. For music lovers some special music symbols will be an excellent choice to make. Tiny hearts, flowers or animals will be a glamorous and stylish detail for female owners. Skulls, weapon and moustaches would be preferable for male owners. Also different meaningless or meaningful symbols are popular tattoo ideas for fingers; they may hide some secret information about its owner or simply be worn as a decoration.
These examples of tattoos will surely help you to make right decision and choose the most proper one that will remain with you through the lifetime. Small amount of ink on your fingers will make loud statement about its owner, his ideas and beliefs without any words.
To sum up making tattoo on finger is less painful and stressful because of the small size. So if you certainly sure about finger placement it's high time to choose the most appropriate sketch.
Follow Us on Facebook