Crab tattoos
Crabs meet in culture of a tattoo of the former Soviet Union mostly often as an astrological symbol of constellation of the Cancer. However except the "star" value, crabs have also other, rather similar to everybody, and excellent symbolics. The crab as a water animal, personifies elements of water as in an astrology, and perception of many people. But, besides, the crab is a pronounced lunar symbol and often means directly moon.
History of crab tattoos
Crab tattoos were used by the eastern people in ancient times, that connected crabs with water deities, first of all with the sea. For example, ancient Egyptians considered crabs not simply a water symbol, but its positive force creating new and reviving the old. Myths of Ancient Greece explain existence of constellation of a crab with gratitude of the Supreme goddess Hera for the help to Heracles in fight against the famous Hydra, respectively, the crab symbolized reliability, support. The crab tatusimvoly reliability a crab also acts thanks to the strong armor protecting a body. The Inca civilization saw the aggressive beginning in crabs - they believed that it is crabs "bite off" on a slice from the moon, turning it in a month.
Today the associations with indecision, inconstancy occurring in ancient Europe are most peculiar to a crab. It is connected with specifics of movement of crabs: they alternately move forward that, back. The tattoo with the image of a crab if it isn't connected with astrological meanings, is most often treated as "don't touch - and I won't touch". Usually there may be seen the tattoo of the crab of the lifted claws.
The history of crabs on the earth makes more than 180 million years. No wonder that for so long existence these interesting sea animals acquired myths and legends and even are considered as aristocrats among other Crustacea.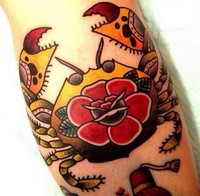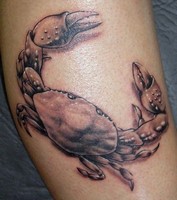 Crab tattoo meaning
The meaning of a crab tattoo is different as well as the image of a crab bears some contradictory meanings such as security, reliability, productivity and many more.
Crabs, along with other Crustacea, appeared more than 180 million years ago, and over time became the most mass class among all animals on Earth. Ancient Egyptians and Greeks, Aztecs and monks mentioned crabs in chronicles, legends and myths. The type of these, apparently, harmless, beings inspired fear in our ancestors. (Or a cancer) Hera sent a crab for the aid to the Lerney hydra in fight with Heracles. Emergence is also explained a firmament of constellation of a cancer by it, after all in Ancient Greece a cancer and a crab were designated by one sign. Such trust of Hera to a crab speaks about his force and reliability in representations of ancient Greeks.
The crab tattoos for many people mean many different things and here the crab is a symbol of elements of water and a sign of the Moon to which the sea flows are subject. Such characteristic of a crab gives to us the grounds to speak about it as about a symbol of force and reliability, but at the same time about inconstancy and changeability.
On inconstancy and indecision of a crab also his natural feature pushes – after all he moves, constantly changing the direction. But other its natural feature, namely a unique armor, speaks about its reliability.
That's why the people who use to apply the crab tattoos are known to want to use the meaning of the crab. Now is also interpretation of a crab as aggression symbol, especially, if it is represented with the lifted and opened claws.
If you want to have an interesting crab tattoo design, it is necessary to understand that first of all it needs to be unique. This is the main idea standing behind many tattoos.
Follow Us on Facebook