Branch tattoos
Branch tattoos nowadays are applied both, by males and females. It is a rather popular tattoo design that is known to be peculiar. One of the best and the most interesting tattoo designs is the olive tree branch tattoos.
Branch image in history
Olive branches remind of solar Greece. In this country rustle with olive leaves which fruits serve not only a subject of trade, but also are a symbol of victories. Ancient Greeks – winners of the Olympic Games received the olive branches weaved into a wreath as the highest award.
Also winners were met with olive branches in hands. For this reason the image of an olive branch is identified with a victory. The olive is considered one of the main bible trees.
The symbol found popularity after the congress which brought together ardent defenfers of peace. It took place in 1949. The pigeon holding an olive branch in the beak became a symbol of action. Therefore it is possible to tell that the image of an olive branch in itself also is a reconciliation symbol.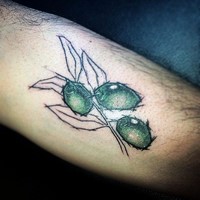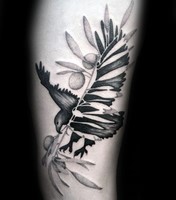 Sacred symbolism of olive branch image
The image of an olive branch is a symbol of desire for peace, reconciliation of the parties which are at war among themselves. It is an image which represents rich fertility and immortality. The tattoo can mean updating of life, symbolize a good news, aspiration to rest and a pacification among everyday disorders and storms. It also a firmness sign in transferring of tests, refinement, aspirations to a just noble way of life.
According to some sources the olive branch is a symbol of fertility and abundance. This image can be pleasant to the one who has deep feelings to religion, is engaged in missionary work and all the life proves desire to follow divine laws.
Sometimes such tattoo is chosen by the one who is a part of peacekeeping forces. Strangely enough, the tattoo in the form of a pigeon with an olive branch can be seen on skin of rock musicians who consider themselves fighters for justice and the world. Many world famous organizations use the image of an olive branch, as world symbol for decoration of the coats of arms and seals. But the symbol has also an opposite value as it was told at the beginning — a victory. If to remember that on mythology of Greece this plant is identified with Athena – the mythical warrior, it becomes clear why the image of an olive branch is interpreted quite so.
It is worth remembering one more tradition connected with this symbol. Many centuries ago, to prove sincerity of intentions envoys brought in hands a linking of wool with an olive branch. Thus, one more interpretation of the image – goodwill and sincerity is added. The image symbolizes fertility and richness of soul because branches of olives are covered with fruits.
The tattoo an olive branch small therefore it is applied on the most different parts of a body and is very seldom supplemented with other elements. Depending on preferences of the owner the branch with leaves or with olives on it is represented without anything.
Of course there are a lot of different branch tattoos, but this one is considered to be the most valuable and meaningful.
Follow Us on Facebook