Skull forearm tattoos
Skull forearm tattoos are known to be the ones of those tattoos that make people have some mixed feelings. In the most general meaning the depiction of the skull tattoo usually means danger, death and understanding, that the live of every person is quickly flowing forward. Of course, such themes are not of value to every person and not all people like to discuss them.
Skull tattoo history
The skull with the crossed bones has always been a famous pirate symbol and in the ancient times aroused instant fear in the peoples hearts and minds. Also skull forearm tattoos are known to be very popular among people who love to play casino games - those, whose life is always connected with constant risk and luck. For such people skull tattoo has always been the symbol of eveyrthing desperate and so on.
Skull tattoo may easily reside on the forearm, and as such, it may be the symbol of truth, of time that kills everything. Also such tattoo can have the meaning of forgiving and sacrifice. This meaning comes to us from the depths of Christianity and it is said that after the death of Jesus his blood was going down the cross to the ground and was washing the skull of the ferst person in the world - Adam. Thus Jesus saved Adam and Eve from their sin.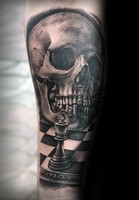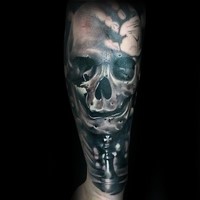 Skull tattoo in world religion
Some Buddhists believed that the skulls of people are known to be a powerful amulet that will remind you about the fact that the life is sacred. The ancient Celts that roamed all over the Europe, considered that the skull contains the immortal soul of the man. That is why they saved the skulls of their great ancestors and brave warriors and treated them with caution. Usually it was considered that the one who possesses ones skull, possesses also the strength.
Follow Us on Facebook