Lotus flower tattoo
Lotus flower tattoo is a great example of the flower tattoo designs. Let us see what lotus means in the tattoo art.
Lotus flower in different cultures
The lotus is one of the most known, universal, conventional symbols of the East and its culture today. A lotus — a perfection flower, it means life and death, revival and aspiration to truth, purity and eternity, spiritual growth and development, purity and fertility, divinity and immortality, the world and tranquillity, fight and happiness. Meaning of a tattoo a lotus is very rich and diverse. Each culture could see in it a certain special unique sense, impregnated this symbol with the national spirit.
The lotus surprised many centuries and admired people not only the beauty, but also improbable ability to keep the purity even in the dirtiest lakes and bogs. In it originality and appeal of this pure and delicate flower growing through dirt and silt, and revealing towards to the sun is also shown.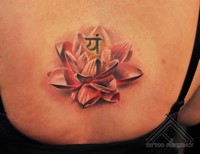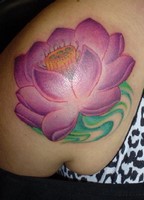 Religious meanings of lotus tattoo
The lotus flower tattoo as the major religious and cultural symbol is present for a long time almost at all Asian countries. So in Hinduism and the Buddhism a lotus — awakenings and aspirations to real spiritual life. It can do will be explained by that the flower of a lotus starts growing in the very bottom lakes among dirt and muck, it grows slowly, gradually going to a sunlight. Starts blossoming as soon as reaches a water surface. According to the legend from a lotus Buddha was born. This flower often serves as a throne for meditation in images of Buddhist Saint monks and White Tara. Therefore he often symbolizes a certain divinity, connection of contrasts, extols light over darkness, good over the evil, love over hatred. Value of a tattoo a lotus in India is defined as a symbol of a feminine and fertility, and is represented in the form of a bowl.
Follow Us on Facebook