How to choose the correct tattoo design and correct place for its application
First of all you have to understand exactly why you want to make a tattoo. If you want to express yourself, think about the tattoo designs consisting of objects that you like or those that have some peculiar meaning for you. If your tattoo is dedicated to some other person, think what this person likes or what has a special meaning for him. Look through different existing tattoo designs and try not to limit yourself to those tattoo designs that are already created. Try to search the fresh ideas by examining photos, graphics, labels, posters, stickers and so on. If you found something close to what you want from your tattoo, try to discuss with tattoo artists every addition or change to the image you have found. You have to think wide and be creative. The aim of the good tattoo artist is to realize all your thoughts and ideas in your tattoo, and your aim is to let him understand clearly your ideas. Think with the tattoo artist also about such things as the gamma and palette of your tattoo. Mind that the image that will be applied to your skin will be as a mirror reflection of what you see. Also think about the fact that your tattoo design will be able to have influence on your future career. And do not haste – it is not at all the case.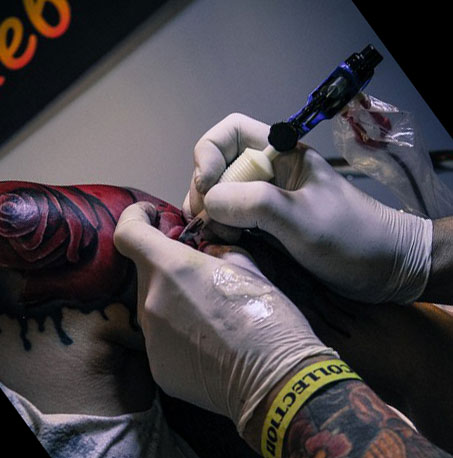 Remember! Every design or image that you choose as the basic idea, as a result of the discussion with tattoo artist can be changed a lot and even become completely different, as well as its color. The tattoo artist is a real artist – he can paint the design of your tattoo even if you just explain it in words. If you want to choose original and expressive tattoo design don't limit your imagination. After you got the design of your tattoo and are sure in your choice you made you have to think about the place of your tattoo image application.
Also you have to choose the correct place for the tattoo image application. There are some rules that will help you to do this without any visible problem. Not to have pity later about the choice you have to think about the following details – if the tattoo does not distort when you are moving, whether you would like it to be visible to everybody or not, whether you will be able to hide the tattoo design under your clothes and to place it correctly on your body.
If you choose a wrong place for your new tattoo design you will spoil all the great effect about it. For example if you place such tattoo design as the girls face on your back it will look like a reflection in a bad mirror. We doubt that she will like the smiles on the faces of people looking at it. You have to think a lot before you choose to apply such tattoo design on such place as your back.
If you refer to statistics, different genders choose different places for tattoo design application. It can be explained by the fact that women hope to make their bodies more attractive with it but at the same time not to look vulgar, that's why they choose such places as behind the ear, or on the body, where they can easily hide the applied tattoo image under the clothes or under hair. The same things can be applied to the tattoos on the neck. Men want to be more open usually and expose their tattoo designs to everybody.
There are many cases when people want to hide the scars with their tattoos. It is a big argument because in any place the tattoo design will look not bad, while the scars usually make people scary. The tattoo designs situated on the belly look usually very good as well. However in case you really want it, you have to consult a doctor because sometimes the tattoo pictures application in this part of body is dangerous in terms of health.
Probably the most well-spread tattoo design positions are situated on the arms. Here we can underline shoulders that become the ideal place for any tattoo images of medium size. Often this area is connected with the forearm and here can be made a great tattoo design with its beginning on the shoulder and the continuation on the forearm. On the wrist people usually choose to apply some small compositions that can be easily hidden – bracelets, compositions of some plants, ribbons and so on. Also very often tattoo designs are applied to the palm or fingers. However, these kinds of place usually are applied by soldiers or sailors. These tattoos are the so-called puzzle that can tell a lot about the applicant. The skin in these places usually is renewed quickly and that's why the tattoo designs in these places quickly blur over the time and lose their attractiveness.
The very peculiar place is known to be the legs. Women often choose to apply the tattoo design of their choice on the upper part of the leg and it is not at all accidental – it is one of the best places over there. Here they have a lot of space for tattoo application and with the correctly chosen tattoo design the beauty of the upper part can be multiplied or vice versa hide the forms if it is needed. Also the big advantage of this place is that it is not so easily seen – only if a woman wears very short shorts or bikini. Ankles are also good places and although the area is not big, it is rather perspective. Very often the girls are applying tattoo designs there because the bracelets or the flower usually look very sexy and intriguing there.
Placing the tattoo on the head people win in the terms of the fact that if they want to hide the tattoo they will be easily able to do it by growing the hair. However, this is also a problem because to clearly see the applied tattoo design you will have to regularly shave your head. If we speak about the face there is such a term as the permanent make-up. Also you will be able to underline the form of lips, eyebrows and eyes. However you have to remember that it is almost impossible to change such makeup and it can be a problem for some persons.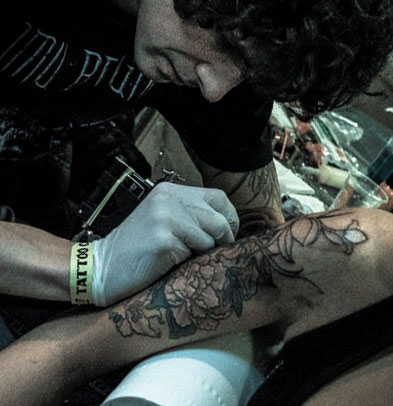 The actual body is the place where the flight of the imagination is not at all limited. Let us begin with the breast where the tattoo designs are applied both by men and women. The most standard thing here is the upper part of the body – here one can place the tattoo design of almost any size. The women breast is a so-so place for tattoo application. Of course some beautiful images can add attractiveness to it but the breast over the time change shape and many pictures can look silly or even really bad. Nipples can also be involved in composition and usually become its center.
The back is really good for application. Technically the tattoo image is applied there very easy and the sizes can be really different. And if you need to hide the tattoo it is enough not to wear clothes with open back. That is the reason why girls very often apply the tattoos in that very place.
Of course the most style is possessed by the tattoo designs on the waist and especially among women. There is enough space there and the theme can be almost different – the flowers, the animals, celtic ornaments. Often these pictures have wider part in the middle and narrow in the edges.
So as we can see the choice of tattoo is not an easy thing and it requires significant amount of time. The tattoo itself will not be applied for one day and the wrong decision can result in painful and expensive consequences. You have to see through many factors before you finally choose the tattoo: its size, color, meaning, style, exact place of the tattoo design and even the tattoo artist that will fulfill your need and apply the tattoo onto your skin. The most important thing – don't haste with your choice, try to get as much information on suitable tattoo pics. Here in this article we try to explain the vital steps in tattoo application that will help to choose wisely and correctly. Here the information is based on different useful experiences of the choice of tattoos. First of all remember that you can mix everything you want, you can get the tattoo design and completely change colors of your future tattoo or the shape of it. The experienced tattoo artist will always be there to help you create the tattoo you want. Don't be afraid to ask or propose something. The tattoo design is limited only by your imagination. Look about the meaning or your tattoo in different cultures. You don't want to offend anyone, do you??? Mind that it is not good to have something negative in you tattoo design. The eastern hieroglyphs have to be chosen with great care. The meaning of such hieroglyph can be completely different in comparison to what you really want. The hieroglyphs can also have several meanings or give another meaning to the value of the phrase. Don't trust quick translations. Remember what kind of tattoo design you wanted for example ten years ago and ask yourself whether you want it now. If not, then probably it's not a good idea for you to make a tattoo at all or just concentrate better on the choosing of the tattoo design that will make you happy for many years to come. Among the tattoos that people want to erase or cover with another one, are mainly the names. Of course this is not the case if there is a name of a deceased person or a child. Probably you would like to make similar tattoos with member of the family or friend, but you have to understand that friendship may not last forever and it can become problem afterwards. Your tattoo must not necessarily have a deep meaning. Don't be afraid to apply such tattoo design as some cartoon character if you like it a lot. Remember that tattoos on legs, arms and face are more expensive because it needs more time to apply such a tattoo and also there is a need of special attention and care in the period of healing. Mind, that some tattoo artist can easily refuse to make such a tattoo especially if you don't have any tattoos. If you think that something prevents you from the tattoo application, do not haste with it.
Remember that there are always some risks during the tattoo application. It is natural that you have to choose the tattoo design that you like the best not to erase the tattoo later. Laser tattoo removal is very expensive, painful and will not always give a good result. If you just want to apply a new tattoo over the old one it will be cheaper, but you have to find tattoo artist who has the proper qualification. One thing is important – don't be afraid to lose much time on the choice of the tattoo – make sure you won't regret it afterwards. Because there is always a risk of infection make sure that the tattoo artist and his tattoo shop has every mean of sterilization, pay attention to what he says. Often for making acquaintance you will be given some special instructions. With the age the tattoos can lose color or quality and they have to be retouched after 10-30 years from application. The use of sun-proof cream or moisturizing cream for your skin will be able to help to keep the appearance of your tattoo as much as possible.
Before you make a final decision ask yourself why you want the tattoo. You want it to become the decoration on your skin for the whole life? Do you do it for someone else? Are you sure that you produced the decision to make a tattoo yourself? Think carefully about everything. How will tattoo deal with your job and your overall life. Of course it would be wrong to lose your job in the favor of tattoo. Pay attention to the fact if you do not break the rules of organizations you are part of (sport, volunteer job, etc.). Make sure that the chosen tattoo design makes sense for you and exposes your personality.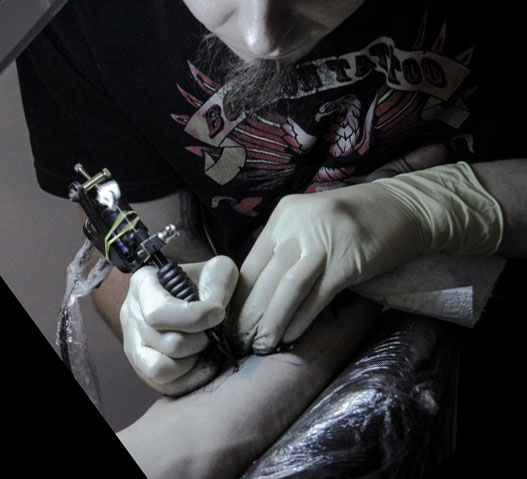 That's why the chosen tattoo design must represent with itself something you love, like, something you long for. The tattoo can always be created in the favor of some close relative or just dear person.
The tattoo designs representing some inscriptions require rather big attention. Make sure that you understand the meaning of the words. If you choose quotations make sure that they characterize directly you. Don't forget to choose a good font (or create your own). Fonts create mood and passion. Pay attention to other already existing tattoos and designs, however you must not limit yourself to those. Look through the different books, posters, stickers, everything that will be able to attract your attention. After this choose the exact position of your tattoo design. It is very important because here you have to decide whether you want your tattoo to be visible to others at the place of your job or at home. Think about the clothing that you will wear, about your hairstyle and decide whether this all will suit your tattoo. You can get the printing of your tattoo and try to apply it to your skin temporarily. It is really a good idea to do it before you make a permanent one. Such kind of tattoo usually lasts from one week to one month and even if you will not be able to see it in all color and peculiarities, you will get a good idea how it will look in a certain position. Also you have to mind the color you want – the tattoo can be black, grey or full-color. It can also be white. The position of your tattoo design determines how quickly it will lose color. When you choose the design you have to be creative. Sometimes a little practice is needed to create your own design. However, it is not necessary to do it yourselves, you can ask your tattoo artist to do it. Many traditional tattoo artists are able to copy the picture for tattoo from photo or picture. Also they can apply such tattoo design temporarily on your skin or change the design up to your likings. Think also how big your final tattoo design will be. Also mind its position, visibility to others and cost. The tattoo on arm, for example, may cost up to 300 USD.
Choose the tattoo artist wisely, decide which style of tattoo you like the most and then find the artist who specializes on this style because however many of them can offer different services, they still have specializations. The styles can be different – natural, Asian, black and white, comic and others. Listen to the recommendations of other people. Make sure that the artist to whom you have to go, has positive feedback from former or current customers. Don't act on the basis of tattoo shop proximity to your house. Look through different tattoo pictures that people applied in particular tattoo shop. Do you like what you see? Pay attention also to the prices. Try to get the final price of the tattoo before the start of its application not to wonder then why it is so expensive. Also it is known to be a very good idea to look through the tattoo artist portfolio. Remember, that every respectable tattoo artist should have it. Don't be afraid to search a lot and not to haste. The main thing is to find what you really like. Spend a big amount of time if it is really needed. This is what you have to do. For example there is a story of one person who decided to make tattoo at the age of 10, but he knew that he needed some time to produce a decision. He always thought about making the tattoo with his own name in Korean language. After that he began to think where he wanted to see such tattoo. However when it came to the time of tattoo application he began to change his opinion. He talked to other people and looked through the many of different tattoos before he found the tattoo design to suit him. Up to that time he completely changed the decision about what he wanted, however one thing remained – he wanted black and white tattoo.
The actual taking of the decision for this person occupied almost 8 years, because he had made the tattoo at the age of 18, so you can imagine how big actually the amount of time for producing good decision can be. It is always a good idea not to make haste and think about the exact tattoo design you want because the fact is that you will live with your new tattoo design for your whole life and that's why it is very important to make a good choice. Of course you can always remove the tattoo, but it will be a rather expensive and painful procedure. The other thing is to try and to modify your old tattoo design or cover it with a new one, but it is not always possible. This explains why you have to think many times before you actually try to apply your tattoo. As we have seen, there are a great variety of factors that have their influence on the final choice – you have to mind colors, position, availability to be seen by all surrounding public, the price and so on.
It will be much better if you will have a chance to visit as many different tattoo shops and tattoo artists as you can. Different views and different tattoo schools can produce different opinions and from this variety you can choose one – the most suitable for you. It is not necessary to choose the only one, you can combine several of them. Just find the suitable tattoo artist or even several of them who can collaborate to create a real masterpiece that you will be proud to wear for all your life. The choice can be really different, but actually to spend quite a time on it will make sure that you will be able to enjoy your applied tattoo design for many years to come. However, you have to be aware that if you have any doubts, do not apply tattoo design until you are completely sure in what you are doing. Qualified tattoo artists will always be able to help you to find the variant you need. Every respectable tattoo shop has portfolio with the examples of everything that was made in this shop. From there you can choose some existing variant or ask the tattoo artist to develop another variant based on what they can offer. As we have already said, good tattoo artists can draw you a temporary tattoo, and you can live with it up to one month and then see if it suits you or not. However, if its your first experience with tattoos and it is the first tattoo you decided to apply, the tattoo artist may refuse to apply tattoo designs to some parts of your body.